April 9th, 2013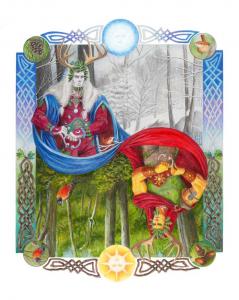 So things are getting... snug. The anniversary book for Magic: the Gathering titled "The Gathering" was funded via Kickstarter within 22 hrs of launch. When the smoke cleared and the campaign was done, we raised just shy of $150,000.00. In case you are unfamiliar with the project, several of the early artists of this popular collectible card game wanted to celebrate the game's 20th anniversary which is this August. We decided to do that with a book of our artwork. Each artist has a double page spread showing a new piece of art, a card that we are best known for and some text about where we were then and where our careers have taken us.

Here's the snug part, one of the stretch goals for a specific tier was sketch cards with original art. I don't physically have those cards in my possession yet. We are trying to amass all our images by the end of June. That deadline is fine right now, but it will soon unworkable if I don't get them in a couple of days. I'm pretty fast with a pencil, but quality always suffers when you rush.

Actually, even the June deadline wouldn't be bad if I didn't have other commissions to get done. The drawing board is never empty these days and this is a good thing. It would be even better if everything sold, but that's another story. I have a recreation of the Mesa Pegasus from Magic and hopefully a book cover for a fiction story set in my home town in 1942 among other projects. I have to get the quote done for the cover, then try to keep a window in the schedule open if the job comes through. It will be a fun project if it comes together.

Later this month I will be the first artist in a series of events put on by a local wine shop. The Wine Makers' Boutique is hosting a series of Art Appreciation events at their shop at 2505 Main St, Stationhouse Square in Stratford, CT to celebrate the art of making wine. It will be a one-woman art show on Friday, April 26 from Noon to 8:00pm. If you can make it, I'd love to see you. You can see more details on the events calendar. I'll have my contribution, "Holly King and Oak King", from the "The Gathering" on display. That is also the featured image for this blog entry. That piece is sold, but there will be other originals for sale. I am working on a piece especially for the event. I should have it done by the end of next week, then photographed, then framed. Hopefully the wine shop will buy it and if not someone who attends will.

After that, the next show will be on Mothers' Day the 12th of May with the Stratford Arts Guild. It's the first "Art in the Alley" show/sale of 2013 and will run from noon -4:30PM in the alley next to the old Stratford Movie Theater in Stratford Center, 2399 Main Street, Stratford, CT 06614. That's listed on the events calendar too. Or you can go to the Guild's website or my own website, both of which I maintain, for more information. Huh. And I wonder why things are snug...

December 10th, 2012
My piece for the Magic: the Gathering anniversary project is finished and submitted. The AD extended the deadline by a week and that was a great help. My text was edited and all I missed was a comma (Thank you spell check!). We should be starting up a Kickstarter campaign any day now. I've seen about ten of the other pieces from the other artists involved and it's going to be great! The Magic collectors should be very pleased with it. I will show it as soon as I get the OK. The waiting is the hardest part right now.

The oil paper I used for this piece is terrific. I can use both oil paint and colored pencils with very few problems. What I like best is that this combination of mediums allows for some pretty significant changes and some great effects. It would have been a very different piece otherwise. I was freer to try different effects for the background and it took maybe... four or five tries before I was happy with it. There was no way I could have done that with the dyes.

Well, I have a commission on the board now and I better get back to it. It is a small black and white portrait of a client's brother as a Wizard. He wants it as a Christmas gift, and since likenesses are not my forte I have to work substantially harder. It is turning out very well so far. I'll put it on my website when it's done.

The next show for me will be on February 10th with the Stratford Arts Guild. "Art in the Studio" show/sale will be from 1-4:30PM at Roger Salls Studio, 80 Ferry Blvd., Suite 106, Stratford, CT 06615. If you can make it, I'd love to see you.
October 9th, 2012
Well, the Art in the Alley show was disappointing. After all the PR we did there wasn't much traffic. We sent out postcards redeemable for a free tote bag with the Stratford Arts Guild logo on it and not one was turned in out of 114. On the up side, the weather was bright and sunny although VERY windy with gusts that rattled the tents a couple of times. You can see pictures here.

The Krab Jab Gallery group show "30 Years of Role Playing Art" in WA was well attended. My pieces sadly didn't sell during the show, but are still available until the end of October. And speaking of October, "The Ouija Wonderful Talking Board" show, also at Krab Jab Studio, opens October 13th and will run for the month.

The piece I'm doing for the Magic: the Gathering anniversary project is going well. I took a big chance with it because I discovered a new paper that I can use oil paint on. It isn't canvas, it isn't board, it is paper. I've done some experiments and I can still use the colored pencils with it. It probably wasn't the smartest idea to do something new with such an important piece and one that has such a tight deadline, but hey. No guts, no glory right?

It has to be in Jeff Menges hands by Nov 2 so I should probably get back to the board now... More coffee first though.
August 27th, 2012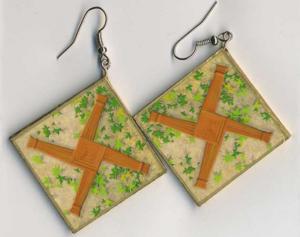 Well, it's August and I said I was going to become more involved with the Stratford Arts Guild, which I did. Good thing too because we have an actual marketing guru in the group now who has kindly offered to help us out. I am paying close attention because I need major guidance in this area of business myself.

My originals are going further afield these days. I have a couple of the Camelot Legends pieces in a show at Krab Jab stuidos in WA state for a couple of months. There will be another show there for the month of October with a Ouija Board theme. I'll be sending one of the prints on metal that Fine Art America supplies for that one. My Skeletal Geisha with Mask was originally designed as a book cover so there was enough extra room on it to put all the ouija board elements. If it doesn't sell, I'll let you know how it looks when I get it back.

There is also a big project afoot that several Magic artists are involved in that will require Kickstarter to fund. The piece is on the board now and due the beginning of November. I've had this image in mind for a while and this was just the boot in the butt I needed to get it started. I'll let you know more when I can say more about it.

Other than that, I have begun to make paper earrings featuring my artwork. I noticed at the Guild shows, that anyone who made jewelry always sold something. So I thought I'd give it a shot. Sure enough, at the next show I sold several pairs so I have expanded my empire to include jewelry. Another iron in the fire... You can see and purchase many of the pieces right here on FAA from the Paper Earrings gallery. Let me know what you think and if you have any suggestions.

So if you are in the WA area and you get a chance, go to Krab Jab studios for a terrific RPG show of original art and prints. You can see my Ouija Board image here.
April 9th, 2011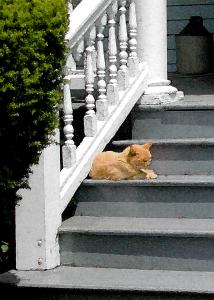 Well finally Spring is beginning to feel like its here. We have robins battling for space on the lawn and I can go get the mail without a jacket. Yup. Good times. I'll be working more closely with my local Artist Guild getting more of an online presence and making more of an impact on the townsfolk. The Wiccan community has been very good to me and I'll be creating more art with that in mind. That's all for now. I'm going out on the patio with my coffee to watch the birds.
February 4th, 2011
I can't believe it's February. Looking at my September entry, I would really love some of that heat right now I can tell you. We have 18" ice dams that are crystal clear and we can't seem to go four days without some kind of storm. My driveway is getting narrower with each one. Please remind me of this month when August rolls around again.

I've been spending more time with Wiccan imagery in my main Zazzle shop. Great stuff that really speaks to me. I'm also concentrating on getting more holiday items into my Nightmareartist shop on Zazzle. Valentine's Day is fast approaching and I've added some of the new items Zazzle offers. There are ornaments that can be used for more than Christmas trees, coasters, iPad and iPhone cases and two styles of necklace. Round and square. Still, the most popular item for Valentine's day always seems to be Valentine's Day cards.

Fat Boy Fossils is slow to get going but sales are becoming steadier. Two Cents Plain is a shop that I've opened with my best friend on Zazzle and sales are also starting to pick up. It focuses mostly on cheerful Jewish gifts and clever sayings. Please visit them and let me know what you think.


September 17th, 2010
Sometimes, you really do get the bad guys.

So the doorbell rings when you don't expect it to. You look in the driveway and there is an unfamiliar truck backed into it. Something tells you to take down the license plate number so you do.

You call "Who is it" and get no answer. The storm door is locked so you open the front door to a young kid. Since this scenario has played out before you take careful note of his appearance.

He asks for someone who doesn't live here. You tell him so and ask "Who are you?". He ignores this and says sorry to have bothered you.

Before he is out of the driveway you have the police on the phone.

You give them the plate number and they tell you it doesn't come back to a truck. They send an officer and you say your gut feeling is that this kid was checking to see if anyone was home. They say thanks and that they'll keep an eye out for the vehicle.

Later on the police call and say they found the truck, the kid and his girlfriend during their second robbery of the day in another section of town. Maybe it's time for a big dog. Or maybe a Werewolf.
September 2nd, 2010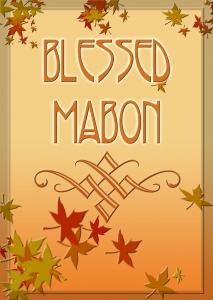 I'm adding designs to my various PoD's now for my favorite time of year. Autumn, and especially Halloween.

It doesn't feel very "autumn-y" at the moment. It's still really hot here in Connecticut and 90+ degrees for days at a time tends to make New Englanders cranky. And hurricane Earl should be here tomorrow. As long as I can still access the internet and work on my various shops, I'm good. I do have to say that I'm getting really tired of the TV and radio telling me over and over that I need to have water, I need to have extra food, I need to have a battery powered radio, I need to have an escape route planed, etc, etc. Well, DUH! People! Take responsibility for your own well being. Oh, I could go on and on but I'm probably preaching to the choir.

But I digress...

I'm expanding my Autumn products this year. Zazzle has introduced stationery, envelopes and labels and I want to make them match and compliment my greeting cards. I've been making customizable postage stamps for several of my greeting cards and people really seem to like it. Brides out there especially like the matching monogramed envelopes and postage to send off their thank you notes. The new binders are great for holiday photos.

So there are Werewolf Halloween invitations, new items for Samhain, Mabon and Thanksgiving. Wow. I better get moving!
August 18th, 2010
I know better, and yet I let my client take four illustrations without paying me. I've done work with him ( a mason) before with no problem. This time, his client, a homeowner building a new house, emailed me trying to get me to take more than 60% less! The image you see to the left is one of the illustrations. (I know.) He paid over a million for a knock-down. I had to work from blue prints to get the illustrations done. To see this and other mason jobs visit my commissions gallery .

My job is to show the mason's client what their home will look like with various stone walls and facades requested by the mason. Normally I have no contact with the homeowner. The mason pays me. If he passes on the cost, or absorbs it as a cost of doing business I neither know nor care. This time, the mason said he would get the money and pay me in two days. Normally I follow the COD rule, this time I didn't. I should have listened to the little voice in my head that was screaming 'DON'T DO IT!"

There are two lessons here. One is to NEVER let a job out of your possession until it is paid for in full or unless there is a contract that gives you proof that the fee is owed. The second mistake I made here is to get involved with the mason's client. It is the mason's problem to get paid. Actually, it is still the mason's problem to pay me. I just hate that I was sucked into the mix. This could all have been easily avoided if I had just said "Sorry, you know I can't let you take these until they are paid for."
June 19th, 2010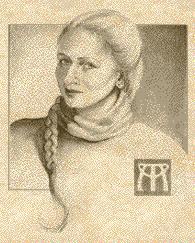 When working on a tight deadline this blog is the first thing that suffers. Well, I'm halfway through a two part commission that's due in the middle of July. They are big pieces. Well, they are for me anyway.

When I browse around the internet lately, I get to thinking that I should simplify the look of the main page of my main website, but I'm not sure how to organize it. I guess I'm gonna have to break down and make the time to figure out how to code for those drop down menus. I'm feeling more and more restricted in my designing. I'm not a big fan of DreamWeaver but I know it can do what I want if I could just tell it how.

Sigh...